Start your project with magic42
What working with magic42 on your eCommerce project looks like
Magento Development is complex
Magento is the solution of choice for serious eCommerce businesses looking to create a differentiated shopping experience for their users. At magic42, we have a long history of using Magento since its early days as part of our award winning retail business. We understand that the key to successful project delivery is a professional project management approach involving detailed planning, management of scope, and the right blend of expertise, experience, and innovation in our team.

We invest heavily in recruitment, training and qualifications to ensure we get this blend just right. Our development-centric culture benefits our clients who can count on experienced, Magento-certified project managers and developers, as well as seasoned marketeers and mature leadership invested in their projects.
The projects we manage are split into distinct phases: Envision, Plan, Build and Launch, which allows our clients and ourselves to focus clearly on the objectives, maximise ROI, and return  pre-agreed, well-defined deliverables at each step of the journey. Throughout each step, you can count on accurate, transparent, to the minute reporting of the work we carry out and evaluate our performance in line with the demands of the project. The Build phase is broken down further into sprint work following an Agile Scrum methodology enabling us to develop, test and deliver work incrementally.
To capture the vision for the project, identify Magento opportunities and prioritise features
Our Method & Magic process starts with the a 1 day Envision phase. The purpose of Envision is to ensure all stakeholders have a shared vision and understanding of the scope and outcome of the project. The output from the Envision phase is
A shared roadmap for the future of the eCommerce platform

An assessment whether Magento is the right platform for your business' needs

A recommendation of the version of Magento that is best suited to your business (Open Source, Commerce or Commerce Cloud)

Recommendations of extensions or partners to use to further customise Magento based on our experience working with the wider community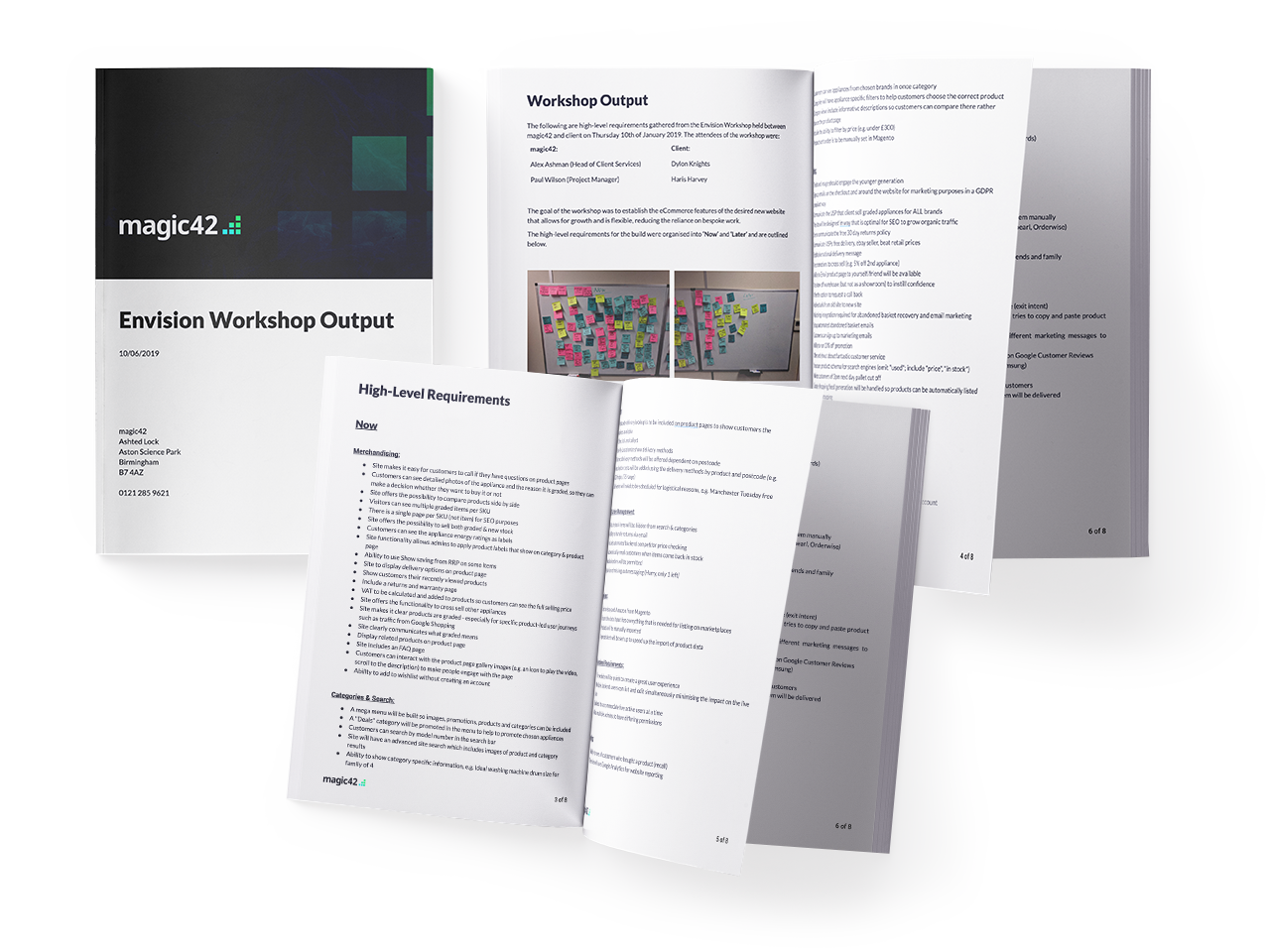 Clarify requirements in detail to maximise success in the Build phase.
The output from Envision, which has defined the high level scope of the project, sets out a timeline and cost estimate for the completion of the Plan phase, where we collaborate with your business to produce beautiful, high-converting website designs and detailed, prioritised requirements to ensure your project's success.
As a magic42 client, you benefit from regular face to face meetings, on-hand phone support, and access to our project management tools giving you real-time information on your website's development. Through your dedicated project manager, you have access to the multi-disciplinary experience of our full team, all based at our UK office.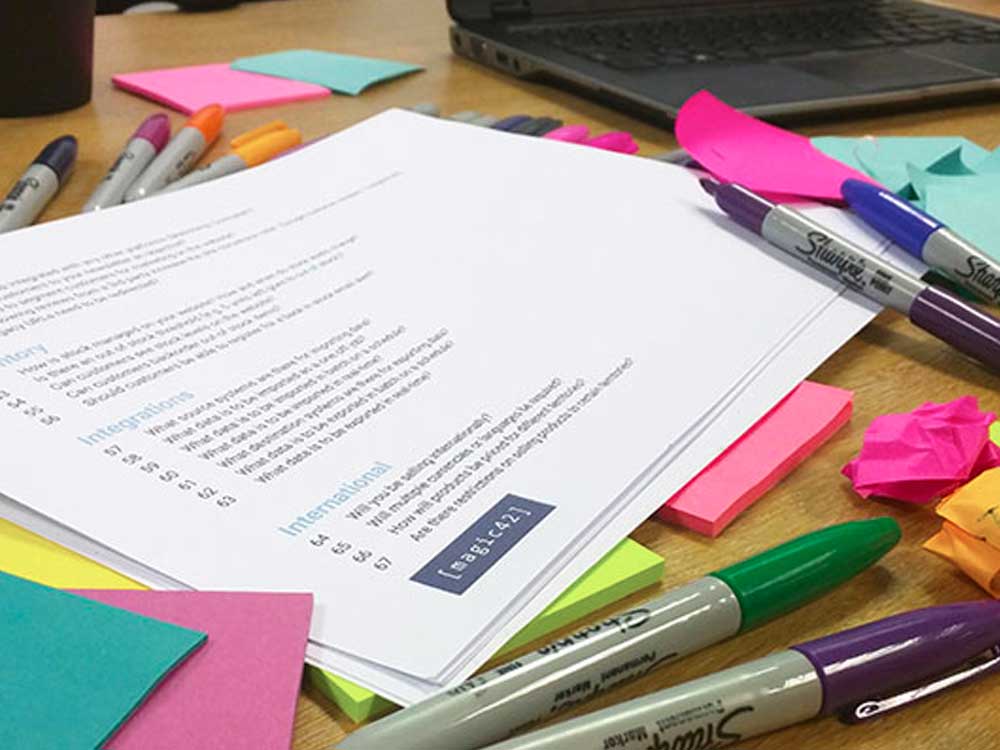 Build of your project tested against a detailed specification and overseen by a dedicated project manager.
Entering the Build phase with a clear specification for the project means that our development team can focus 100% on delivery. Thanks to the planning undertaken earlier in the development of the project, you can rest assured that magic42 now have both a clear vision of the project's objectives and a detailed specification of each requirement allowing us to maximise the value of your budget. We provide you with detailed time reports throughout so you can see how your budget is being used to the very minute.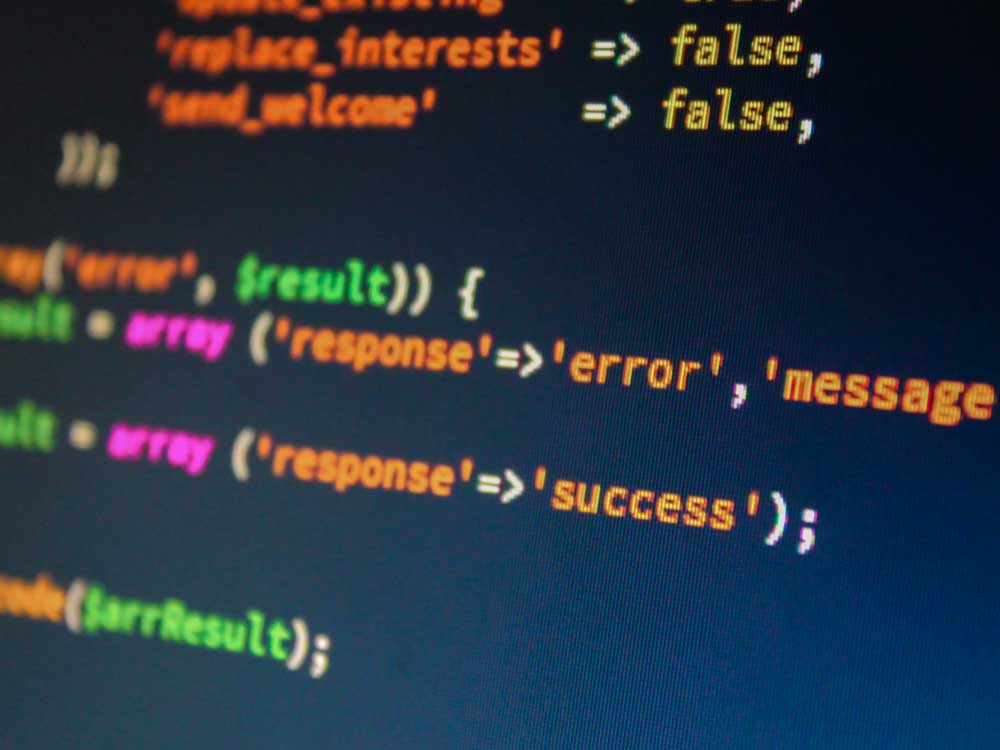 Stabilisation of your website, obtaining ROI from the project and moving towards iterative growth.
Having thoroughly tested your website in both local and development environments, the final phase of the project is Launch. magic42 closely monitor your site at this phase to make sure any issues that arise are addressed in as timely a fashion as is possible. This is the phase when you begin to realise a return on investment and the project reaches its conclusion. The journey is just beginning.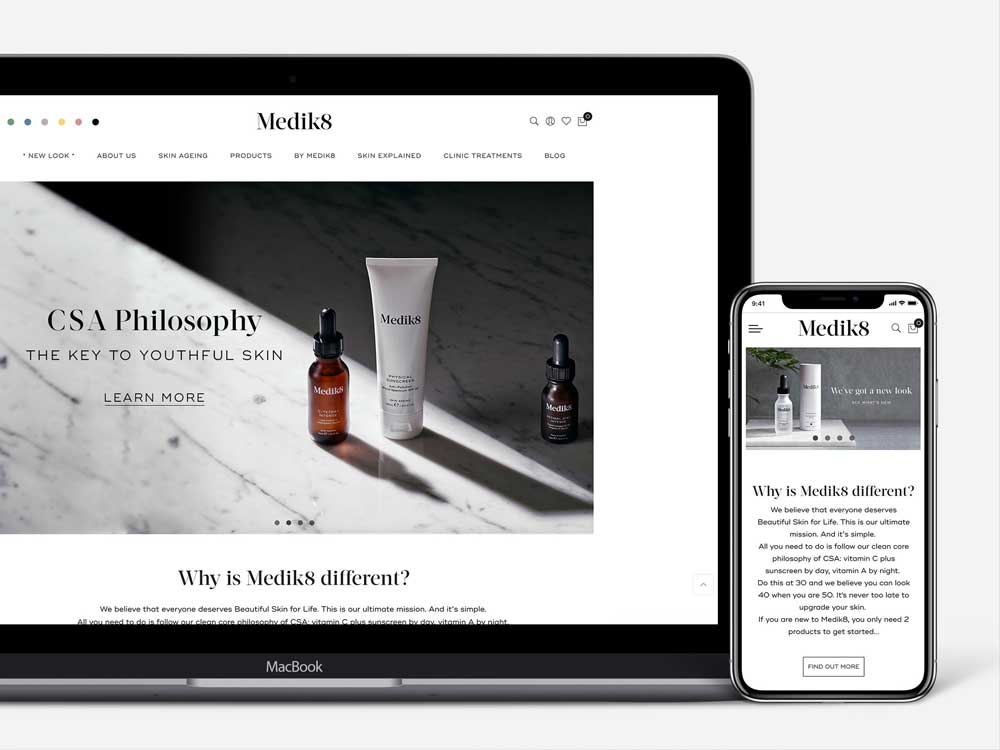 Once your project is launched we continue to work post project in order to grow and develop your business.
Far more than just support and maintenance
magic42 remain at your service to continue to grow your business iteratively as the data gleaned from your site's performance begins to inform the direction of the business.
If, for whatever reason, you one day decide you want to stop working with us and work with someone else, we solemnly promise to help you transfer your code, your media assets and your data to your new Magento partner without charging you a penny for doing so. This promise ensures we always put your interests first and is proof of the professional integrity in which we take pride. Our guarantee provides assurance that we are always working in your best interests.
As Google partners and veterans of online retail, magic42's team understand how SEO, PPC and outbound email are shaped into a complete marketing solution enticing traffic, maximising leads and capitalising on buying intent. We'll work with you using our results focussed analytical tools to comprehensively measure the retail performance of your website. We don't develop on faith. We produce measurable, quantifiable results.
Contact us if you're looking for expertise in:
• Design?

• eCommerce innovation?

• Replatforming?

• Integrations?

• B2B eCommerce?

• Subscriptions?

• International expansion?